Friends of the Earth Charitable Trust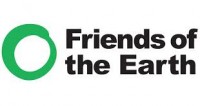 Help us protect the planet for future generations. Support Friends of the Earth today. We want a healthy planet and a good life for everyone on it. In fact we believe that you don't get one without the other. That means using the Earth's resources with care, so that we meet people's needs – wherever they are – today and in the future.
We know:
The Earth is our only home so wrecking it doesn't make sense
The wellbeing of people and planet go hand in hand – this has always been the inspiration for our campaigns
Friends of the Earth achieves astonishing things with limited resources. But we can't do it alone. It's by working with many other organisations and individuals that we make things happen. We're building a movement – we've been doing it since 1971. And that means working with the people and organisations who care enough and can get things done. We have powerful relationships with an amazing range of allies and supporters – from our own backyard to the global stage.
Over 90% of our income comes from individuals – people like you. Individuals are our lifeblood. We rely on people who want to protect the environment and want to help. 

To view their Privacy Policy please visit: friendsoftheearth.uk/about-us/privacy-policy