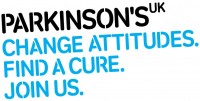 Imagine not being able to move, sleep or smile. Feeling anxious or depressed and struggling to think or remember. Your body not feeling like your own. This is what Parkinson's can feel like.
Every hour, someone in the UK is told they have Parkinson's.
Parkinson's UK is here to make sure people have whatever they need to take back control. We drive better care, treatments and quality of life.
Without the generosity of people like you, our work would not be possible. Supporters and volunteers are as vital to us as researchers and nurses. Our work is totally dependent on donations. It's only with your help that we can continue our vital research projects, and provide support and information.

Together we can bring forward the day when no one fears Parkinson's.