RECOGNITION FOR EMPLOYERS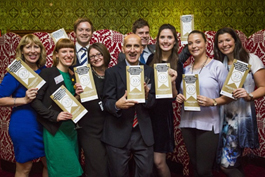 Providing Payroll Giving shows a company cares for the causes its employees hold dear, it also fits well into Flexible Benefits packages and effectively fulfils Corporate Social Responsibility.
To celebrate employers' commitments to the scheme there are a number of awards that recognise success and showcase innovative campaigns. Please see below.
We offer guidance and full support to our corporate clients entering awards. We can provide reporting, feedback and always endeavour to celebrate successful campaigns!
Government Quality Mark Award

These awards recognise and reward companies of all sizes for making Payroll Giving available to their staff. The Payroll Giving Quality Mark comprises of a certificate and logo that can be used on corporate literature. This acknowledges that a company has implemented and promoted the option to employees.

THE BRONZE AWARD is available to employers that achieve 1% employee participation in Payroll Giving.

THE SILVER AWARD is applicable to companies with over have 5% of employees donating.

THE GOLD AWARD applies to employers that achieve 10% employee participation level in Payroll Giving and have actively supported the scheme in the past year.

THE PLATINUM AWARD is presented to companies that have over 20% engagement and have demonstrated on-going commitment to promoting the scheme to employees and peer organisations.

National Payroll Giving Excellence Awards

The National Payroll Giving Excellence Awards take place in November in London. Last years' ceremony was held at the House of Lords. This is a chance to showcase the best examples of employers' commitment to Payroll Giving and the benefits to UK charities. The awards are split into various categories, including 'Best Launch of a New Scheme' and 'Best Sustained Scheme'.

See more information at: www.payrollgivingawards.co.uk

Chartered Institute of Payroll Professionals Excellence Awards

The Chartered Institute of Payroll Professionals has a dedicated 'Best Payroll Giving Scheme' award in the annual sector awards. The awards were established to recognise individuals and organisations in the industry who demonstrate payroll and/or pensions excellence, and their positive impact on the UK economy.
SET UP
How to set up a Payroll Giving Scheme in three easy steps
SUPPORT
Ideas for companies to increase employee engagement
REWARD
Read about the benefits and rewards for companies with Payroll Giving