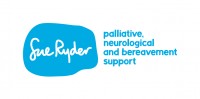 Sue Ryder supports people through the most difficult times of their lives. For over 65 years our doctors, nurses and carers have given people the compassion and expert care they need to help them live the best life they possibly can.
We take the time to understand what's important to people and give them choice and control over their care. This might be providing care for someone at the end of their life, in our hospices or at home. Or helping someone manage their grief when they've lost a loved one. Or providing specialist care, rehabilitation or support to someone with a neurological condition.
We want to provide more care for more people when it really matters. We see a future where our palliative and neurological care reaches more communities; where we can help more people begin to cope with bereavement; and where everyone can access the quality of care they deserve.
"We were both scared but were greeted by welcoming smiles from the nurses"
When Jane met John at 20, she had no idea that 10 years later she would be raising their eight-year-old daughter Sophie alone after he died from a brain tumour at 31.
"It was a horrible time for us but Sue Ryder made sure that my husband was given the best care and support, and decisions about his treatment were always discussed with us," Jane said. "It was the small, personal touches that really helped.
"The nurses helped Sophie understand that her daddy was going to die, when I couldn't find the words. And John was always able to have loved ones around him. He passed away peacefully, surrounded by the people he loved, for which I will be forever grateful.
"Shortly afterwards, Sophie had a 'heroes day' at school. I was so touched when she decided to go as a Sue Ryder Nurse. She was the only child not to go as a celebrity. She would have made her dad so proud."