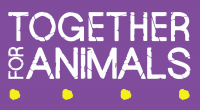 No animal should suffer from injury, disease, abuse, or neglect.
With your help, we can end the suffering of cats, dogs, donkeys, and horses.
Help FOUR charities with ONE donation - and save THOUSANDS of animals' lives
Together for Animals raises much needed funds for its four member charities – Blue Cross, Mayhew, SPANA, and World Horse Welfare. Animals contribute so much to our mental and physical wellbeing - by working together we are ensuring that they can enjoy happier, healthier lives.
Because of the kind support and donations Together for Animals receives, we can help change the lives of cats, dogs, donkeys, and horses by:
Fighting to ensure animals are treated with the respect and kindness they deserve.
Finding happy homes for abandoned or unwanted pets and horses.
Campaigning for animal welfare.
Providing free veterinary care for working animals in the world's poorest communities.

£5 a month could help to feed an animal while they wait to find their forever home.
£10 a month could help us save abandoned and abused animals.
£15 a month could help provide urgent veterinary care to a sick animal.


Together we can ensure that animals have happier, healthier lives. Help us save animals from disease, neglect, and abuse.