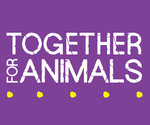 Why support one animal charity when you can help FIVE? Together for animals brings together five charities, all working to ease the suffering of thousands of animals in the UK and overseas. Each donation will be split between:
The Blue Cross – Dedicated to the health and happiness of pets since 1897. Abandoned or unwanted, ill or injured, we do what's needed to give every pet a healthy life in a happy home.
World Horse Welfare – One of the world's leading international equine welfare charities concerned for any horse, pony, donkey or mule in distress in any part of the world. In the UK ILPH runs five farms dedicated to the recovery and rehabilitation of horses.
The Animal Health Trust – Exists to fight disease and injury in animals. Thanks to our pioneering work improving diagnosis, treatment and prevention, horses, dogs and cats are living healthier, happier lives, in the UK and across the world.
SPANA (The Society for the Protection of Animals Abroad) – Across Africa and the Middle East, SPANA clinics treat hundreds of thousands of donkey, horses, mules, camels and livestock every year. Our education programme teaches children and owners respect and compassion for animals. During conflict, drought and natural disaster, our emergency programme gets help to animals and the communities who depend on them, whenever and wherever we're needed.
The Mayhew Animal Home – One of the most effective animal welfare organisations in London, reaching thousands of dogs and cats to escape a life of abandonment, neglect and cruelty each year. More than just a rescue and rehoming centre, The Mayhew strives to tackle the companion animal welfare crisis through the delivery of a number of community-based outreach programmes. We recognise that education is key, not only to achieve a reduction in the number of unwanted dogs and cats, but also to ensure that all animals receive appropriate care.