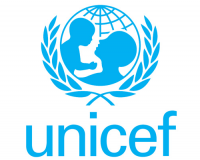 Right now, children are in danger. They face violence, disease, hunger, and the chaos of war and disaster. This is wrong and it has to change.
Unicef ensures more of the world's children are fed, vaccinated, educated and protected than any other organisation. We work in over 190 countries around the world. We have done more to influence laws, policies and customs to help protect children than anyone else in history.
Unicef works with families, communities and governments to transform children's lives by protecting and promoting their rights to education, health, childhood, to be treated fairly and to be heard.
On the ground we distribute life-saving supplies such as water kits and mosquito nets, and provide support and training. We create opportunities for young people to participate and make their voices heard. We use our influence at the highest levels of government to ensure that laws and policies work in the best interests of children.
Unicef receives no funding from the UN budget. We are funded entirely by voluntary contributions and are only able to carry out our vital work thanks to the contributions of our supporters.
Today, by supporting Unicef, you can protect a child in danger, transform their life and build a safer world for tomorrow's children.