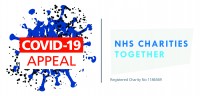 NHS Charities Together supports 240 NHS member charities based in hospitals and ambulance trusts across the UK. NHS charities support patients and staff with a variety of items that are "over and above" what the NHS can fund.  The money donated is not a replacement for government funding but an addition so that patients and staff can have access to cutting edge equipment, ground breaking research and items that make a patients stay in hospital more comfortable.  
During the Covid-19 pandemic, NHS Charities Together has awarded £30 million in emergency grants. Funding has provided support for staff wellbeing, patient communication tools such as ipads so that patients could "see" their family, end of life and bereavement packs, activity packs for patients with dementia to keep them engaged and calm to name just a few things.  
Going forward we are supporting our members with another £65 million to fund projects that bring together the NHS with social care and community healthcare to work together in 3 ways:-
Putting in place preventative measures to reduce the amount of people who need to go into hospital, 
Reducing the amount of time patients are in hospital 
Care for them when they are home to prevent being hospitalised again.  
This collaborative working is the way forward to keep people well and in the best health both mentally and physically.
We are also supporting NHS staff throughout the country with Recovery Grants for their mental and physical health and wellbeing impacted by Covid-19. We know that the pandemic will have a lasting effect on many workers and we want to support them in the longer term.