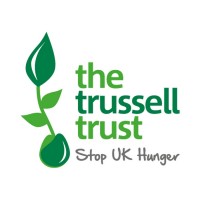 We exist so we can all be free from hunger. Together, we're more than 1,300 local food bank centres across the UK, providing practical support for people facing hardship.
But emergency food isn't a long-term solution to hunger. People need food banks when they don't have enough money for essentials. It's not right that anyone needs a food bank to get by, and we can change this by ensuring everyone has enough income to eat, stay warm and stay dry. That's why we also work with communities across the UK to change the things that push people to need a food bank.
Our network of food banks is supported by almost 12,000 churches, as well as many community groups, local businesses, schools and more than 28,000 dedicated volunteers. Together, we are thousands and thousands of people, from communities across the UK, working together towards a more just future.
We bring together data and evidence from food banks and the people who need them across the UK, gathering powerful information on the state of our society. Our research projects give the most in-depth picture of who needs a food bank and why, helping us co-create and advocate for solutions that will ensure all of us have enough money to cover our basic needs.
We believe that in coming together, and working together, we will build a future where none of us need a food bank, because none of us will allow it.