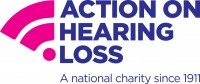 Action on Hearing Loss is the new name for RNID. We're working for a world where hearing loss doesn't limit or label people, where tinnitus is silenced and where people value and look after their hearing. We want:
people to acknowledge their hearing loss and take action
more support for people with hearing loss
no one to be isolated through their hearing loss
people to protect themselves against hearing loss and tinnitus
to cure hearing loss and tinnitus
We offer a range of services for people with hearing loss, including people who are profoundly deaf. Our work includes campaigning and lobbying; providing training, products and equipment; and medical and technological research.