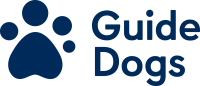 We are Guide Dogs. And we're here to help people with sight loss to live the life they choose.
Since the first guide dog partnerships were created in 1931, Guide Dogs has helped tens of thousands of people who are blind or visually impaired to achieve life-changing independence. This has only been possible thanks to the generosity of our supporters and dedication of our staff and volunteers.
The challenge:
1 in 5 people will live with significant sight loss in their lifetime.
Every day 250 more people join the 2 million already living with sight loss and this number is set to double by 2050.
73% of people with sight loss of working age are unemployed.
How we can help:
Our iconic guide dog service is at the heart of what we do, but in recent years, we have expanded our services to help thousands more people with different needs to lead confident, independent and fulfilling lives.
• We currently support around 4,000 life-changing guide dog partnerships.
• We offer a wide range of services and activities for children and young people, as well as providing valuable advice for parents and teachers.
• The My Sighted Guide service equips volunteers with the skills to become a sighted guide to help the people we support to get out of their homes and back into community.
• We work with others to influence the design of new technologies to meet the needs of people with sight loss - enabling them to make many more choices about where they go and what they do.
• We campaign for the rights of people with sight loss to enable better access to public transport, town centres and other services.