Charity For Civil Servants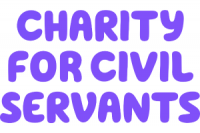 At the Charity for Civil Servants, we can't prevent the tricky, stressful and sad stuff from happening but when it does, we can get civil servants the best support.
We want to be the first port of call for whatever difficulties civil servants and their families are facing. We are an independent charity, funded almost entirely by donations from civil servants themselves to help other civil servants when they need us most.
Because of your kind support and donations, we can change the lives of civil servants in a number of ways including:
Financial Support - If civil servants are experiencing financial hardship, we may be able to help them with things like household essentials, bills or funeral costs.
Money Matters - Money worries can appear out of nowhere. Sometimes it's just about being able to chat in confidence to someone who knows what they're talking about (we have FCA approved advisers), or getting a helping hand to be more in control of money.
Mental Health and Wellbeing - Mental health problems like anxiety and depression can feel overwhelming. If civil servants have trouble sleeping, relationship problems or are going through grief, we can help with these as well.
Help for Carers - Carers need care and support too, and that's where we come in. We have a dedicated resource that's just for Carers, packed with advice to help them look after themselves and the one they care for.
Watch this short film to see the work your donation would support. 



Thank you for giving! Your donations mean that civil servants, and their families, never have to cope alone — whatever life brings.