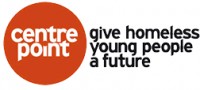 Over 83,000 young people (aged 16-25) experience homelessness in the UK every year, and it's getting worse. In just four years, the number of young people sleeping rough in London alone has doubled. These young people have no home and nobody to support them.
Centrepoint is the UK's leading youth homelessness charity. Our vision is to end youth homelessness but our mission, every day, is to give homeless young people a job, a home and ultimately a positive future.
Typically, homeless young people have faced severe emotional or physical abuse and neglect. Many are care leavers or refugees escaping violence. Our priority is giving these young people a safe place to stay and for many, Centrepoint is the first place they've been able to call 'home'. But our work extends way beyond providing a place to live. Our programmes of support – including counselling and therapy, healthy living and relationship advice, education, training and our award-winning WorkWise programme – means that 80% of the young people we support move on successfully from Centrepoint leaving homelessness behind. Since 1969, we have helped over 104,000 homeless young people to turn their lives around. With your support we can help thousands more.