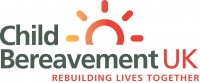 The Child Bereavement UK is the leading charity that supports families and educates professionals both when a child dies and when a child is bereaved. Our vision is for all families to have the support they need to rebuild their lives, when a child grieves or when a child dies.
1 in 29 schoolchildren has been bereaved of a parent or sibling – that's a child in every class. Our mission is to ensure the accessibility of high quality child bereavement support and information to all families and professionals, by increasing our reach and plugging the gaps that exist in bereavement support and training across the country, and embedding standards in the sector.
Every year the charity trains around 5000 professionals across health care, social care, education, the emergency services and the voluntary sector. It also provides a national support and information service, award-winning resources, an interactive website with online forums, and Buckinghamshire-based family bereavement support.