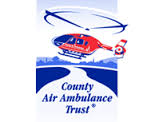 County Air Ambulance Trust offer air ambulance service coverage for the Midlands and Welsh Border area. Since 1993 we have been helping to save lives through our funding of Air Ambulance services across the region. We are also now working to ensure that helicopters have somewhere save and secure to land when they get to hospital through our HELP Appeal.
Every second of every minute of every hour counts for serious accidents or medical emergencies and when the clock starts ticking off the minutes of the Golden Hour, the difference between life and death is often a fast flying helicopter with appropriate landing facilities.
We have helicopters and hospitals. All we are missing are helipads. In an emergency when any delay can be deadly, being able to land seconds away from help will save lives.