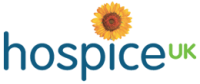 Hospice UK is the national charity for hospice care, representing over 220 local hospices across the UK. We believe that everyone matters throughout their life right up until they die, and that no one should die in avoidable pain, suffering or emotional distress.
Our aim is to make sure that everyone with a life limiting or terminal condition gets the very best care, and we believe hospices are critical to achieving this.
Collectively hospices in the UK care for around 360,000 people every year, and we work closely with them to support their vital work and to create a stronger voice for hospice care. We also support the development of hospice and palliative care worldwide. We co-ordinate national fundraising initiatives, and provide grants, professional education, funding and a wide range of support services.
By supporting Hospice UK you can choose to give a percentage of your donation to one of our members so it can directly benefit your hospice of choice too.