Welcome...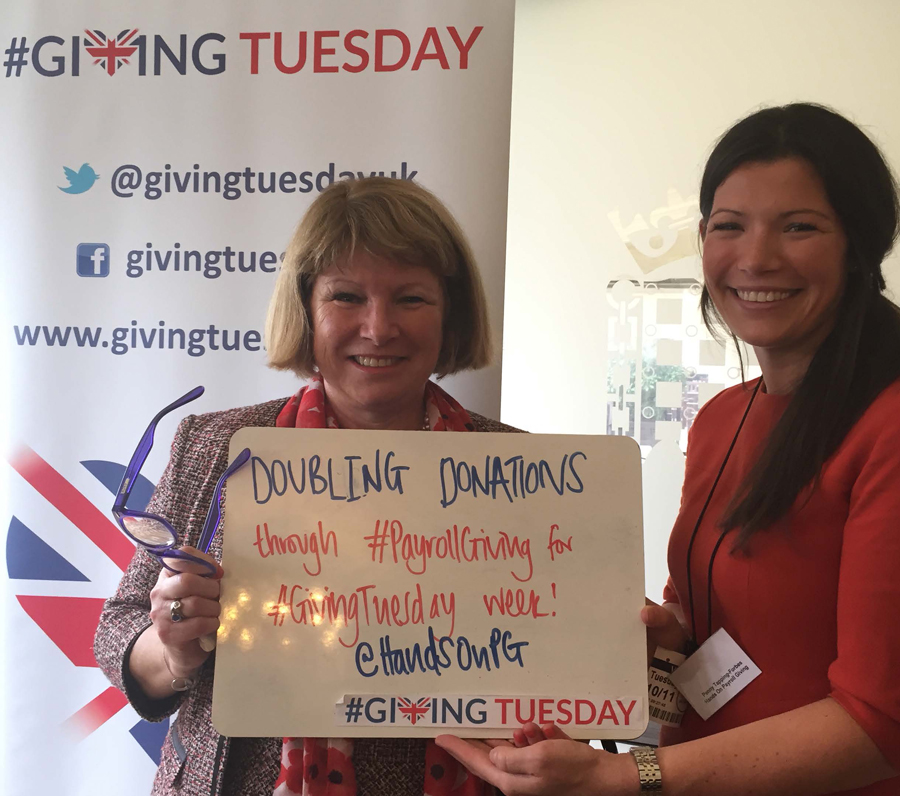 Hands On Payroll Giving, formerly Hands On Helping, are the oldest Professional Fundraising Organisation in the UK. We make no charge to employers as we are funded by our charity partners.
Our aim is to provide all UK businesses with the tools to facilitate Payroll Giving, allowing their employees to support any charitable organisation they wish in a tax free way.
We are funded by the UK's top charities to promote Payroll Giving on their behalf. Only if an employee chooses to give to one of our charity partners are we paid a fee by the charity. This fee is released from separate fundraising budgets, and not as a direct percentage of the donation. This allows charities to raise funds in a risk-free way.
Our service to corporate partners is to facilitate donations to all charities; all donations are processed in the same way with all funds going directly to the causes employees select, no donations are ever passed to Hands On Payroll Giving.

Join our 'Giving Lifts You Up' campaign this #GivingTuesday
To celebrate the worldwide day of giving we're topping up all new donations with a £10 gift (t&cs apply). To get involved simply Contact Us; we can provide employers with free web pages, graphics, template emails and posters to promote the campaign.
Testimonials
Please see some testimonials below from some of our charity partners, see our Case Studies section for corporate client feedback.
"Hands on Payroll Giving are an invaluable part of our payroll giving fundraising here at Cancer Research UK. Having worked together for over fifteen years, we have been impressed with the professionalism and flexibility which Hands on Payroll Giving display in the service they carry out for charities. The high quality of their work is evidence of their unswerving commitment to the fantastic causes they represent, and has brought in over £400k of donations to Cancer Research UK in the last financial year alone."
"Hands on Payroll Giving has worked with Save the Children for over twenty years to introduce new supporters for us. Payroll giving is an important regular income to us allowing us to plan ahead and organisations such as Hands on Payroll Giving are vital in reaching to people in many, many workplaces that we would not be able to reach directly."
"Payroll Giving provides a regular and predictable source of income helping Barnardo's to plan and work with some of the most vulnerable children in the UK. Hands On Payroll Giving have met all Barnardo's expectations and specific guidelines which reflect our own fundraising values. Hands On have successfully recruited donors for Barnardo's for many years with their friendly and professional approach, ensuring all donors understand the process of donating via their pay and data protection rights, providing a positive experience for the donor."
"Hands on Payroll Giving's performance was exceptional this year - they recruited twice the number of donors we expected"
"Actionaid has been working with Hands On for over 10 years promoting payroll giving in the workplace, through their work we are receiving regular donations from the PG scheme, which enables us to plan and budget. It also has increases our charity profile within many different companies letting people know about the valuable work we do overseas."
"Macmillan Cancer Support improves the lives of people affected by cancer. We provide practical, medical, emotional and financial support and push for better cancer care. Hands On provide an excellent service by communicating our cause to potential donors. The work they do by recruiting payroll giving donors to our cause will help us achieve our ambition of reaching everyone affected by cancer. Cancer affects us all. We can all help."