We work closely with employers to build sustainable schemes that fit with their business ethos and attitudes. We can assist with implementation, promotion and management of Payroll Giving for any size of organisation.
A Payroll Giving Scheme lets businesses support their employees' freedom of choice to give to charity. There are no compulsory fees to pay and the only required resource is a payroll deduction. Payroll Giving fits into many areas including Flexible Benefits, Community Investment and HR.
There is no cost to register for Payroll Giving with an HMRC approved agency and we assist with all administration. See more in SET UP.
Our services are completely free to employers, we help with employee engagement with no cost online solutions and a network of trained professionals that can meet all marketing needs. See more in SUPPORT
Our free online donation pages are modified to suit each individual company and can include log in facilities for employees and charity partner features. We can also integrate Payroll Giving into benefits portals. See the Case Study about the Single Sign On facility we provide for Morrisons.
There are recognised Government Awards that acknowledge companies supporting Payroll Giving. See more in REWARD.
SET UP
How to set up a Payroll Giving Scheme in three easy steps
SUPPORT
Ideas for companies to increase employee engagement
REWARD
Read about the benefits and rewards for companies with Payroll Giving
ONLINE SOLUTIONS
We provide free online pages to all corporate clients. These can be modified as required and can integrate into intranet pages and Flexible Benefits portals.
Examples of our online pages can be see here:
Microsite: this can be modified with specific pages as required, with all pictures and text editable.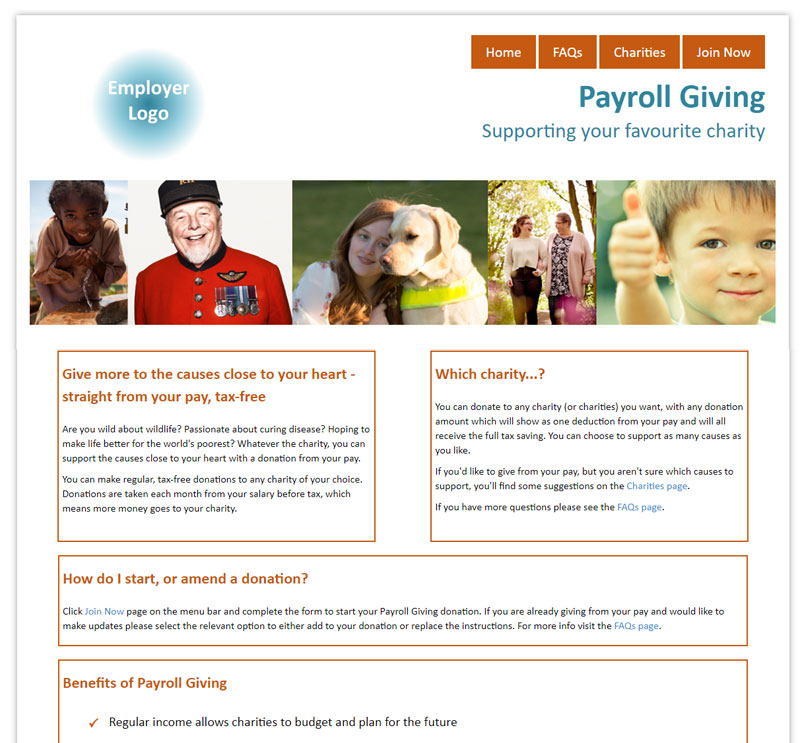 One page interactive: this is a one-page simple design that is fully mobile responsive to display well on all devices. The pictures and text can also be edited as required.